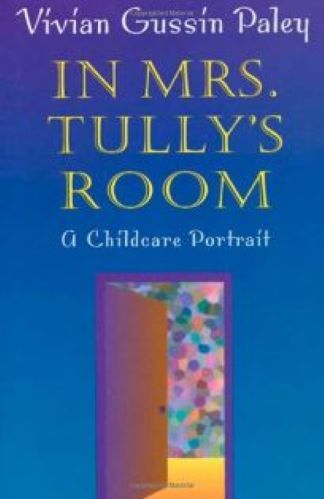 In Mrs. Tully's Room: A Childcare Portrait
by Vivian Gussin Paley
---
Review by Gail Alder
Gail Alder is an Early Years Consultant, fascinated with the sheer brilliance of young children, fiercely protective about their right to play. She believes Vivian's ethos, based on kindness, shines as a beacon of hope. 
Book No: 11 – 1st published: 2001
This is a wonderful book for all those who care about nurturing the hearts and minds of the next generation. A book that warms your soul and challenges your thinking in equal measure. Providing both a comforting hug and a provocative itch. In the publication, we accompany Vivian as she enters the world of an extraordinary teacher, Mrs. Lillian Tully over a period of four months.
Mrs. Tully works primarily with 'the twos.' Chaotic, tumbling, exhausting, emotionally driven, inquisitive and rather wonderful two year old children. Vivian initially encounters some of the group as she enters their community at a childcare centre in Chicago, 'speeding around, each going in a different direction….the stop and go rhythm is unlike anything I am used to in the classroom. This is unchartered territory for me.'
Thus the scene is set for us to become students alongside Vivian, exploring the joy and challenge of tuning into children's dramatic play. With her as guide and companion, we question, observe, listen, reflect, endeavouring to understand the art, power and innate humanity of the 'Storytelling Curriculum.'  
As readers, we soon become intrigued by the pedagogy of this gifted teacher, Mrs. Tully. We are mesmerised as she weaves tales from her own childhood into the fabric of her classroom. The star of these memories is Grandad, who looks after the young Lillian and her rabble of cousins with kindness and an endless supply of stories.
In Mrs. Tully's room, Grandad's legacy sings from every child she scoops onto her lap, each gentle rub she applies to soothe and comfort, and every story she tells to guide and teach.
The book gently unfolds using a narrative that is part diary, part pedagogical reflection. Not all is comfortable, and at times we feel the stark contrast between the softness of Mrs. Tully's cosy lap and her burning anger at miscarriages of justice and exclusion. Her fiery passion for community and democracy in education against the cooling balm of her gentle narration; used expertly to smooth the bumpy road of childhood. Throughout this work we are privileged to bear witness through Vivian's eyes to a 'different way of being with children.'
Mrs. Tully uses the art of Storytelling to teach, nurture and guide her children. Using story to seamlessly support the raging emotions of 'the twos' and the 'olders,' (the threes and fours) as they yearn and learn to find their place in the world. This book inspires the reader to tune in to the narrative of each child, and to think about the value of kindness as one of the earliest learning opportunities.
As Vivian's reflective prose leads us through the pages of this book, Mrs. Tully shows us all a way to truly connect with young children showing deep respect and love. She instinctively turns the punitive cry of. 'Do this or else',into the restorative and relatable, 'once upon a time there was a dinosaur and he was having a problem.'  All shame is removed from each situation and story takes its place.
Mrs. Tully's room is the room each child needs, a room where they have a voice and are heard. This book leaves you with both a story in your heart, and a stone in your shoe.