The Poetry Basket: A Case Study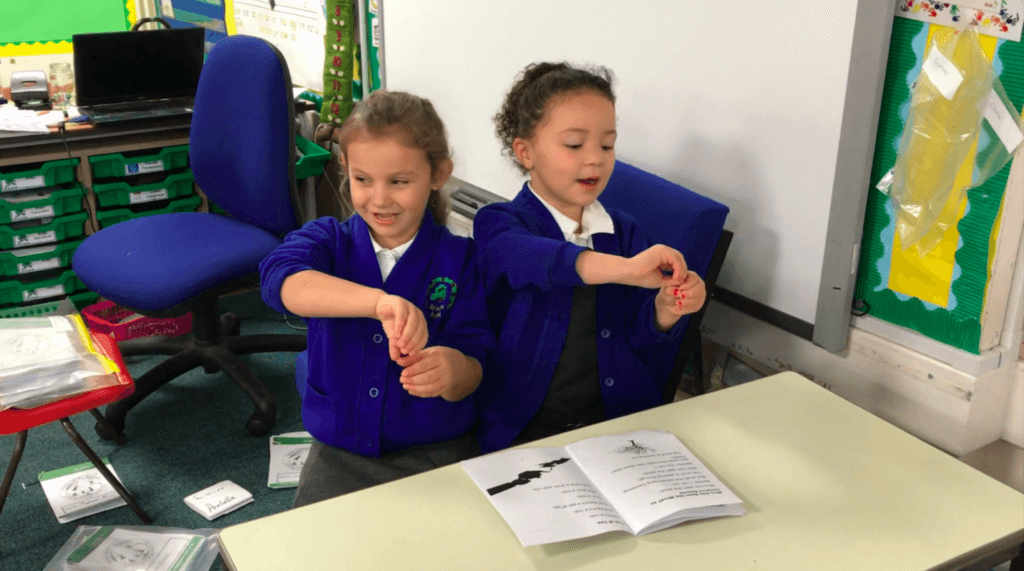 By Kirsty Bard, Lakehouse and Stationhouse Nurseries, Portishead


"As childcare practitioners, we are well-aware of the benefits of sharing poetry with children in terms of development and wellbeing; it increases motivation to read, builds phonemic awareness, encourages vocabulary, helps with recall, encourages listening and attention, provides an outlet to express feelings and emotions."
As such, we hoped that The Poetry Basket would give us that framework to explore all such development opportunities (while having lots of fun!).

At present, we have a few children with speech and language difficulties. Given the impact coronavirus and lockdowns have had on children's development, our main aims were:
To try and bridge the gap and support communication development further

To encourage confidence and independence in a group setting
For the children be able to find a way to express and manage their emotions effectivel
We mainly use The Poetry Basket during our daily circle times, which usually take place twice a day (to give children attending afternoon sessions the same opportunity). We tend to focus on two new poems a fortnight, and always regularly revisit favourite ones upon request from the children. 
The children sit comfortably in a circle with their practitioners, either inside or outside, where the poems are read (almost sung!) by the Practitioner, using props, puppets, actions, sounds etc. If it is a new poem, the Practitioner will read it through first and then will read it again, asking for the children to join in. The poems are then repeated daily until the children are secure in their recall of the poem. We then ask the children for poem requests (ones that they already know) and we either read these together or, if feeling confident enough, they may wish to stand up in the circle and recite it themselves!
The children are also able to access their own copy of 'The Poetry Basket' on our bookshelf, where they can use this as a prompt to ask their adults to read their favourite poems any time of day. Sometimes, they like to flick through the pages with their friends and using the picture prompts on each page, guess which poem it is. This leads to discussions between themselves as to which ones are their favourites.
To encourage parents to get involved in their children's learning journey, we post a copy of our poem/poems of the week outside on our parent board, so that they can take a photograph of the poem to explore with their children at home.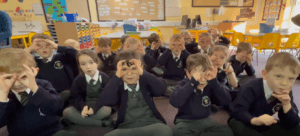 With daily repetition, most children were able to recite the whole poem and ask for specific poems by name. Obviously, the more actions, props and enthusiasm used by the adult reading the poems, the more engrossed and focused the children were. 
Some of the children's absolute favourite poems were – 'Sliced bread', 'Five little peas,' 'Thunderstorm,' 'Chop chop,' 'Leaves are falling,' and 'Cup of Tea'. The children's interest in particular poems often encouraged fascinations and interests in different subjects, which we explored with them further in various set-ups and activities. For example, after reading 'Thunderstorm', the children developed an interest in the weather, which coincided with a child's trip to Greece where there was an earthquake. The children learned lots of new vocabulary and facts about earthquakes and tornados, and we even took part in our own volcano experiment. 
Similarly, with 'Leaves are falling', they would recite the poem together during free play in the garden, whilst throwing leaves in the air. They talked a lot about the different colour leaves they could see when we were out an about in the community and asked to make leaf paintings and rubbings. We have also found that the children can identify when we are reading stories that rhyme and often find that these are some of their favourites in the bookshelf, such as 'Room on the Broom' and 'Giraffes Can't Dance.'
One particular child in our room has really struggled with managing his emotions, mainly due to his frustration with his limited communication and language skills. He also found it difficult to listen and focus for any period of time, especially during group circle times. Since starting The Poetry Basket, we have seen an improvement in his social interactions with other children; he is using more vocabulary in up to six-word sentences, he can now often explain why he is feeling sad, he is able to recite all our poems verbatim and is present, focused and engaged throughout. 
We believe this is definitely, at least in part, due to our regular reading and sharing of poetry. He has certainly used this as an outlet for managing his feelings