Poetry for Children with Additional Needs: One of the Lucky Ones

Nadine Jones, Special Needs Practitioner
I am one of the lucky ones. I work with children with additional needs. It can bring a roller-coaster of emotions, but the overall emotion I feel is pride. I have witnessed children unable to speak, let alone communicate their basic needs, who over time, become fluent communicators. I have seen the child that was somehow labelled as 'the one that wouldn't join in,' become the child that eagerly waited his turn to tell his story.
The children that stand out are the children not given the opportunity to access activities because they have additional needs.
This brings me to my journey into Helicopter Stories and then on to The Poetry Basket. I was invited to attend a training day that Trisha Lee was delivering. I went with the usual idea that it would be mainly aimed at mainstream children and would need adapting to suit the needs of the children in my class. This was somewhat true, it did need adjusting, but from the start, I could see how it would work with my children – all with additional needs. I was right. It worked brilliantly and I immediately became a fan.
Fast forward to January 2019. I was in a new job, and I had the opportunity to see how Helicopter Stories would work with children with profound, complex and multiple needs. I was willing, knowledgeable and stuck. Things were not going well. I was struggling, and in my opinion, failing.
Luckily for me, the local authority had funded another year of Helicopter Stories with MakeBelieve Arts, and this included several visits to my new setting from the wonderful, inspirational and genuinely lovely lady, Isla Hill.
Showing Isla what I was doing was nerve-wracking. I honestly knew that this time I wasn't doing Helicopter Stories justice. Isla was lovely and supportive; she's like that naturally. And like she has many times before, she became my hero. Isla told me about a new initiative at MakeBelieve Arts. It's called The Poetry Basket. She demonstrated 'Chop Chop,' and I was hooked. That night I watched the poems on the Helicopter Stories website, recorded the words to 'Chop Chop' onto a switch that is regularly used in my setting, and I was ready to go. 
My session started with me saying the poem several times whilst 'chopping' on individual children's arms or legs. Then they listened to my recorded version of the poem, and lastly, they were invited to press the big yellow switch button to activate the poem independently.
The children listened, seemed interested and happily activated the switch. Then the moment came that blew my mind – a child who often opts out, activated the switch at least ten times in a row!!! I was bursting with pride, for him and for The Poetry Basket.
That was it. The Poetry Basket became a key part of my day. At any opportunity, out would come the switch. 'Chop. Chop,' became an obvious favourite for my children, although maybe not so much for the staff. Another example of the wonders of The Poetry Basket is Logan. Logan is four years old. He can be a very animated little boy, especially when he is excited. Amongst his other needs, Logan has severe mobility issues which make the smallest thing a challenge.
Logan took to the 'Chop, Chop,' poem from The Poetry Basket straight away. His excitement every time he heard the poem was wonderful to see. To fulfil his desire to hear the poem again, Logan needed to hit a switch which looked like a large button. For the majority of us, pressing a button is an easy task. However, for Logan, this is not the case. It takes many small steps to achieve his desired outcome.
Logan has to locate the switch, concentrate on moving one of his arms in a controlled manner, remember where the switch is, correctly lower his arm and then press the actual switch. 
Many may question why not just move the switch nearer to him. But this is cause and effect in action. It keeps Logan alert, involved and more importantly, it gives him an opportunity to make his own decision about what happens and take ownership about what he wants.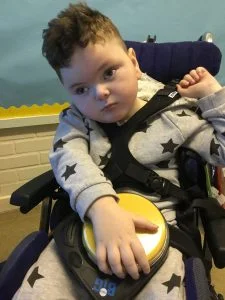 The effort it takes Logan to push this button is clear, but his determination and the joy he experiences when he hears the 'Chop Chop,' poem overcomes any difficulties. He presses the switch again and again.
Logan's deliberate engagement with this poem was further confirmed by a second Poetry Basket poem that I recorded on a different switch. This second poem was entitled 'Cup of Tea'. It has a different rhythm, one which Logan was clearly not impressed by. He almost looked offended when I offered him this choice. Understandably, this is a switch he does not press.
Although this poem did not have the same impact as 'Chop Chop,' it gave me a tool to allow the children to make a choice and demonstrate their preferences. The difference was apparent. With 'Chop Chop,' the children smile, giggle and physically demonstrate their enjoyment. As soon as they realise the switch contains the 'Cup of Tea,' poem, they lose interest.
The Poetry Basket is now loved and established in my class.  We use the poems every day, either through me saying them, or using the switch or watching the videos. Each time we do the poems, I am lucky enough to witness how positively they impact on the children. The Poetry Basket's range of four to eight line poems has given my children opportunities to express their preference, demonstrate emotions and open up to a whole new world. It's so easy to grab the switch and engage the children – like fast poetry.
For me, The Poetry Basket is another superb strategy that I already love and will sing about from the houses. I have introduced it to four other classes and I am enjoying watching them discover this magic. Next, I plan to spread it across the rest of the school. Soon all our children will be 'Chop, Chop, Chopping.'
Interested in The Poetry Basket?
Visit our Online Learning