Let Their Imaginations Fly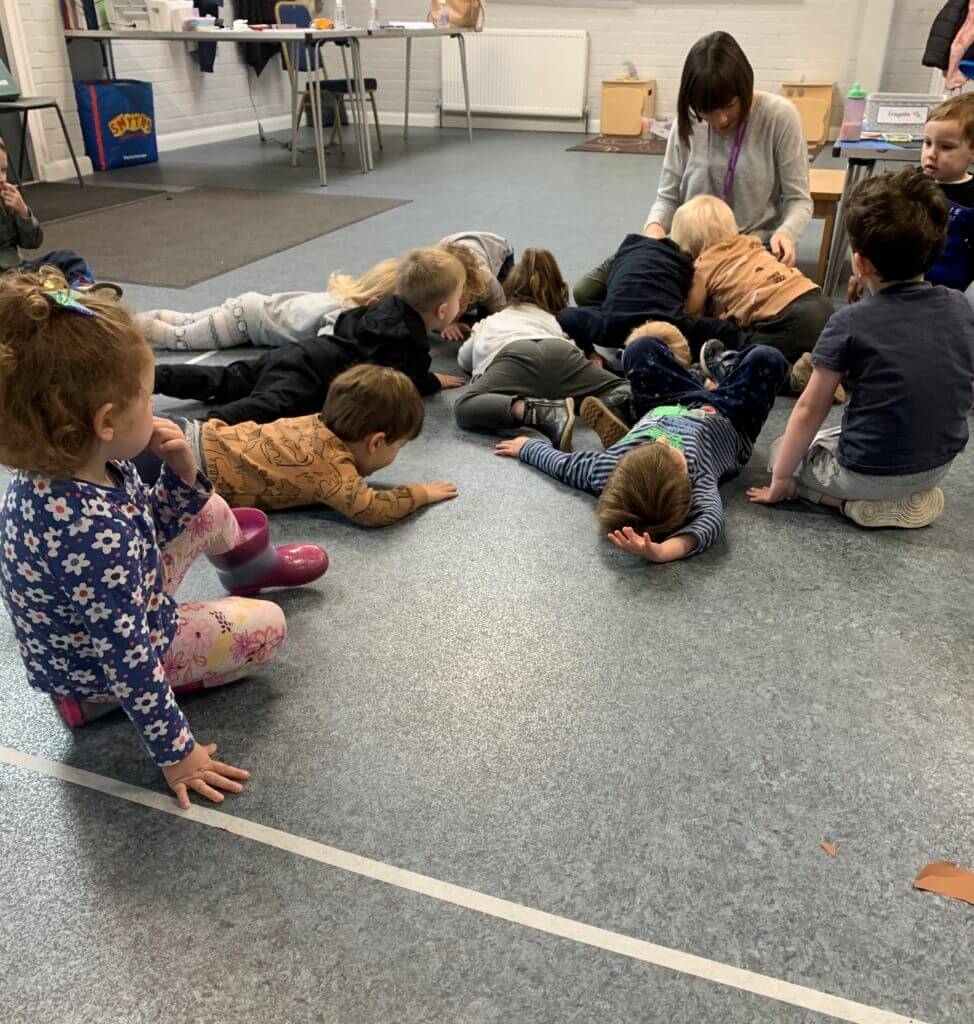 Joby Gifford (Pre-School Manager, Sunnyside Pre-School)
'It's important to remember, the imagination of young children can be unleashed at any age, they're just waiting to be asked 'would you like to tell me a story?''
Each day is different when you work with a group of young minds; they find new ways to develop and are always full of energy. But an important part of getting to know them is to simply sit and listen – noting the vocabulary they use and the grand scenes they create with their imaginations. Having worked in the Early Years for the past 13 years, I have had many an opportunity to sit and listen to children at play, interacting with their friends and older role models.
My first introduction to Helicopter Stories happened four years ago, when Isla Hill (Education Director at MakeBelieve Arts) came to introduce the approach at my school. I was working in a Reception Class when we started using the programme on a weekly basis. Over the following year, I scribed the children's stories which included a world of superheroes, animals, fairy tale characters, as well as their own family members and friends.
Soon after, I took over the management of a new preschool setting, where we found ourselves embroiled within the strange new times of the pandemic. Isla got in touch to ask whether this new pre-school setting would become a Helicopter Stories Hub, connected to the school where I previously worked. She was looking to track the children's story development from preschool to the end of year 1. I was eager to be involved, but the biggest question for me was…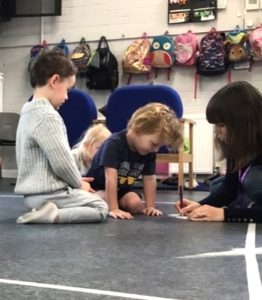 Could Helicopter Stories work with younger children?
I can now say with certainty… it's working for us.

The children take us on a journey of imagination every week as they tell their own stories during our Helicopter Stories sessions.
Not only does Helicopter Stories help the children to develop their language and communication skills, it also has an impact on their well-being. They love Helicopter Stories and become completely absorbed – forgetting other worries they might have, like 'when is Mummy coming' or a bad knee.
Recently Jacob came into preschool 'out of sorts', he didn't know what to do with himself. He wouldn't take his coat and backpack off, so he sat on a chair in the middle of the stage with a face that was far from happy. It was a day that Isla was in and she was taking stories. She asked if Jacob wanted to tell a story and he did immediately – taking his mind away to a place that made him happy.


To support their Helicopter Stories adventures, I've also introduced The Story Basket and The Poetry Basket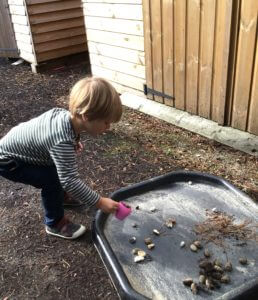 For the children, this provides a chance to grapple with fantastic new story language. Every week we listen to a story from The Story Basket and explore each new story in depth; completing activities based around those stories.


Over the past year we have been immersed in many different worlds, but perhaps our most favourite adventure so far, was 'Stone Soup.' Stone Soup really captured their imaginations. We sat around our stage and listened to the story, and the children could immediately talk about what had happened in it, even incorporating parts of the story into their play. When outside, the children independently sourced 'ingredients' to make their own stone soup. 

The children made their own vegetable soup to enjoy, discussing what ingredients could be used to make it. They could remember nearly all of the vegetables from the story. We even did vegetable printing.
The children also learn two poems a week from The Poetry Basket. The other day, one of the children was able to recite nearly the whole of the poem 'Carrot Nose' with all of the actions when he had only heard it three times!
The journey, for us, continues. We look forward to where the power of story, rhythm and rhyme will take us. Most importantly, how the children, with a stimulating story environment, will develop and grow.
It's important to remember, the imagination of young children can be unleashed at any age, they're just waiting to be asked 'would you like to tell me a story?'. I have had the privilege of hearing some amazing stories, delivered with an infectious energy that creates an excitement for the rest of the day. As each child's Helicopter Stories book grows over time, you can truly see the story progression and the child's growing confidence. Children who were shy and quiet to begin with start to find their voice as they narrate their adventures to an attentive listener.
The best advice to give to anyone using Helicopter Stories, is to let the children just be themselves. Sit back, believe in the approach, watch as the stories flow onto the page and then the stage.