In Conversation with… Jo Hobbs – The Impact of Helicopter Stories
"(Helicopter Stories) was the only thing they did across the week that was fully inclusive. There was nothing else that was timetabled in, that everybody could access at the same level at the same time. For us as a team, that was really powerful in terms of how the approach could benefit our children."
Buckinghamshire Early Years team were the first local authority to train a large cohort of their practitioners, using MakeBelieve Arts' online training programme – Helicopter Stories On Demand.

We caught up with Early Years Advisor, Jo Hobbs, to find out about the impact she has seen from embedding Helicopter Stories across schools and settings in Buckinghamshire.

Here is a transcript of that conversation.
Why is Helicopter Stories so important to your Early Years Team?
We originally identified Helicopter Stories as a programme that we would offer back in 2019. We started a side-by-side initiative with our Early Years sector to work collaboratively to narrow the achievement gap between vulnerable children and their peers at the end of the Early Years Foundation Stage. Communication and Language was a key focus.

This started with Trisha Lee who founded Make Believe Arts in 2002 delivering face-to-face training to approximately 30 of our Early Years Foundation Stage (EYFS) practitioners from a range of day nurseries, pre-schools through to schools, who then cascaded it back and implemented it in their settings. Soon after this, Helicopter Stories On Demand was developed, so we decided to buy into a 'virtual' training day for other practitioners. In addition, we purchased the 'On Demand Training' to further develop practice. We're ultimately aiming to develop Centres of Excellence around the county that can share their Helicopter Stories practice through this side-by-side model. 

Helicopter Stories aligns with us because of its focus on communication and language. We were also drawn to all the associated benefits in terms of personal, social and emotional development (PSED). I think the fact that it's simple to achieve and completely based on good early years pedagogy is a must. So many other approaches or interventions don't fit with the core values of good Early Years practice, but Helicopter Stories does. That felt very appealing. 

One thing that still gives me goosebumps to think about is when we were working with the first groups of schools, one of the teachers, (who came from a school in a deprived area in Buckinghamshire) said it was the only thing they did across the week that was fully inclusive. There was nothing else that was timetabled in, that everybody could access at the same level at the same time. For us as a team, that was really powerful in terms of how the approach could benefit our children. Since then, I've been totally convinced by the ethos and how accessible it is.
What benefits have you seen?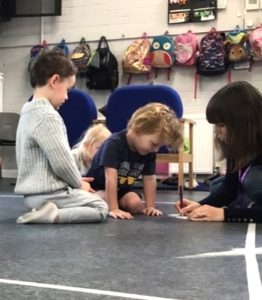 Very early on we had some good outcomes in terms of individual children. Children, that had been selective mute had spoken for the first time because of the approach. We were also seeing other small gains that were having a huge impact on these children. Helicopter Stories felt like something that was embedded in wellbeing, self-esteem and making the children feel good about themselves.
Then a couple of weeks ago, I went to visit school I used to teach in, to observe how they were getting on. One of the schools we are working with to become a Helicopter Stories Hub. It's a mainstream school, but they have an additional resourced provision – an ARP – for children with communication and language needs.
It was the second week of term in September, and they were working with a complicated and diverse cohort of children. A lot of English as an additional language within the ARP, alongside children with additional needs learning within the school community. And yet there they were – second week of term, sitting around, two circles of thirty children, completely integrated and all taking part. That was really powerful. There's not much you can do in the first couple of weeks, where you've got everybody all working on the same thing.
What are your longer-term hopes for Helicopter Stories in Buckinghamshire?
Our aim is for Helicopter Stories to be embedded as part of the regular timetable – we feel it's one of the main ways to support children in terms of communication, language and personal, social, emotional development and creativity. Our focus is to work with six Helicopter Story Hubs to support them to become centres of excellence. Using these centres, we would like more schools and settings to get on board and develop their work around it. The long-term impact through this wider implementation of the Helicopter Stories approach is to narrow the achievement gap between vulnerable children and their peers at the end of the EYFS.