The Poetry Basket: A Community Project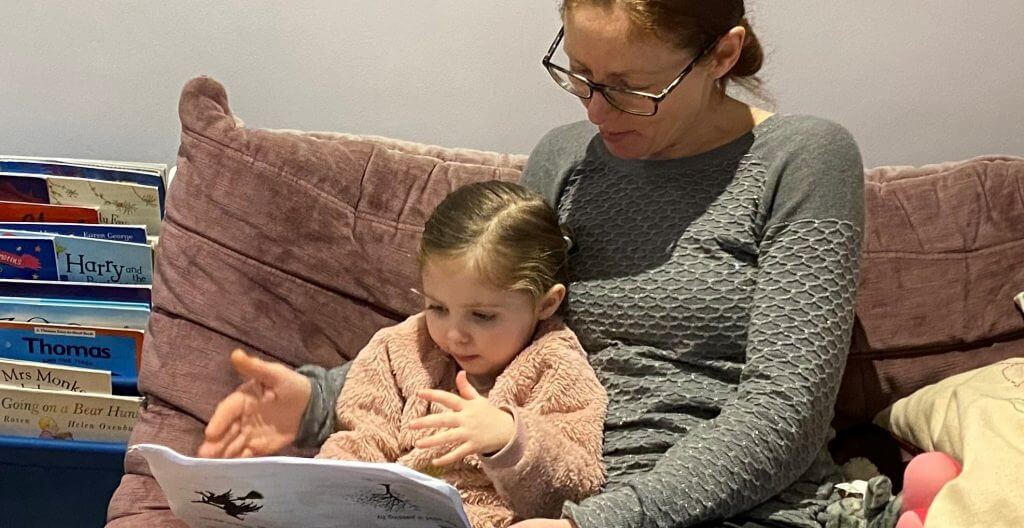 Guest Blog by Gail Alder, Early Years Consultant, North Somerset
The work of Vivian Gussin Paley has had a deep and lasting impact on my professional life. Her writing and the philosophy within, has urged me to question, reflect, challenge and ultimately strive to develop and promote value based pedagogical practice. The work that Trisha Lee and Isla Hilll are doing through MakeBelieve Arts that has grown from their professional connection and personal friendship with Vivian is a rich source of joy, challenge and inspiration for my work in Early Years education.
When I heard about The Poetry Basket and saw Trish performing the poems on the Helicopter Stories website, I knew this was something special that had the potential to grab the attention of our Early Years Community here in North Somerset. Its brilliance lies in its simplicity. In essence it is a seemingly basic process of adults learning and then teaching simple poems to children. However, this well researched, beautifully presented parcel of learning has the core potential to have a deep and lasting impact on the development of children's language through Early Years settings, local communities and county wide partnerships.
The Poetry Basket process adopted in North Somerset

Early Years Educators (EYE'S) learn the poems through the videos on the Helicopter Stories site (professional development)
The poems are taught to the children face to face (unique child, inspiring interactions, positive relationships, strong language role modelling, fun!)
The children and the EYE's teach the poems to their families and the wider community
"I just wanted to say how pleased and proud we are to be part of the Poetry Basket, it has really raised community spirit, bringing lots of different organisations together including staff and parents." – St Francis Pre-school
Getting Started
The more we explored and unpacked the possibilities of this project, the more exciting it became. We worried a little that the time may not be right as COVID was at the top of everyone's agenda at the time, but this project seemed to shine as a beacon of hope for all. Everyone could see its potential, so the decision was made to run with it. A project truly based on children's learning, without a whiff of hand sanitiser was a welcome focus for all. We adopted the acronym of HOPE for this developing learning community.
Heartfelt belief in the transformative nature of early education
Opportunities for professional discussion and deep thinking
Passion-based on a steadfast belief in the capabilities of all children
Enterprise in its fullest sense; boldness, courage, initiative, energy and effort.
We are absolutely loving the poems. We have recorded us saying these poems and sent them to the parents. We have also sent them the Poetry Basket booklet. We have had really positive comments from the parents, one said he can no longer cook without saying the rhyme "chop chop" – Childminder, Becky Taylor
Partnership Possibilities
Our next step was to look at all our existing partners working with children 0-5 and their families and we approached them all with the project proposal. To date we have secured engagement from;
Nearly 50% of our Early Years providers (we are now working hard to get the remaining settings to join as momentum builds)
All Children's Centres
The Foster Care Service
The Disabled Children's Team
Portage (adding Makaton videos to supplement material)
HomeStart
Weston College
The Music Service
What next?
We have spoken to local councillors about the potential of this project as a golden yarn that could help to weave communities together across the county. We are aiming to get 100% participation across our Early Years providers and Reception classes. We are meeting with the local press to arrange a promotional campaign in 2021 and are planning to get the poems published in local magazines and newspapers and displayed in shops, supermarkets, cafes, pubs, play spaces, care homes etc. We also aim to get booklets printed and added to food bank parcels where families have young children.
We are thrilled by the response to date and really feel that this initiative puts early childhood education firmly where it belongs, at the beating heart of every community.
The Poetry Basket
The Poetry Basket includes 36 lesser-known children's rhymes from anonymous authors and follows the seasons of the year. Suitable for Teachers, Early Years Practitioners, Parents and Carers of children aged 3 to 6.