Scribing Verbatim: What We Hear When We Really Listen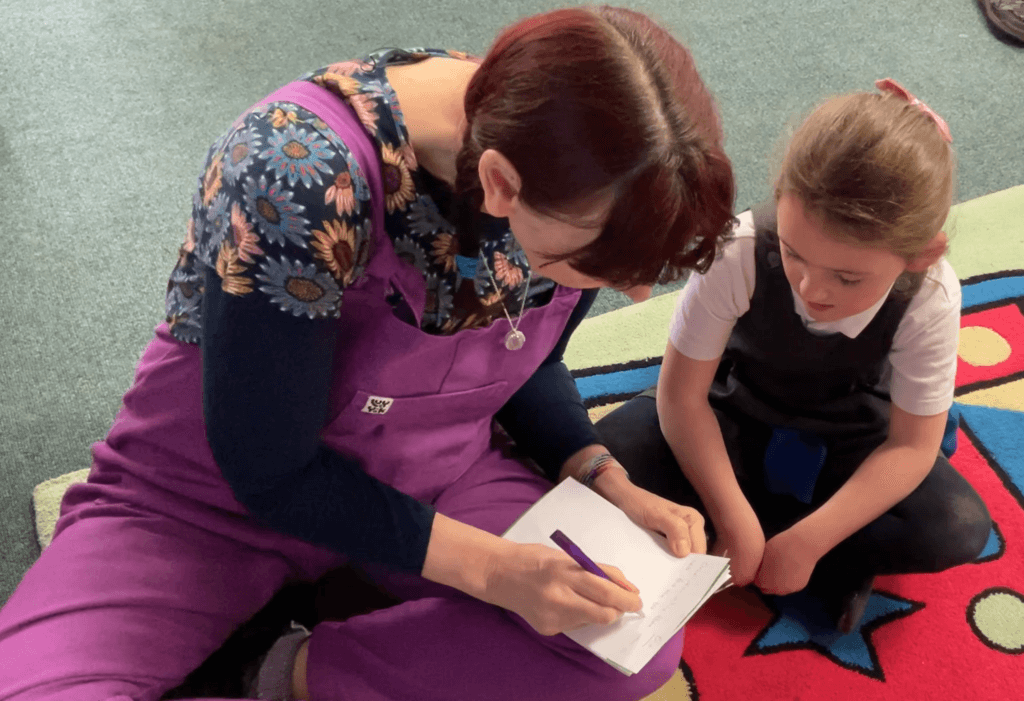 From Chrissie, Reception Teacher, Croydon

'Helicopter Stories allows me the time to sit and listen to children in a way that isn't always possible in a Reception classroom.'
We are very grateful to Chrissie, a Reception class teacher in Croydon, for sharing Ellie's story with us. Chrissie's school is part of a programme funded by The Paul Hamlyn Foundation, enabling us to train and support practitioners on the Helicopter Stories journey. Chrissie tells us how using the Helicopter Stories approach enabled her to identify a child's speech difficulty and all because she had the opportunity to sit and listen to every word during story scribing. When she listened, she heard exactly what Ellie needed.
"Back in September, we had a new entry of children and Ellie and Emily (twins) had started in Reception. They had previously attended our school Nursery, and both the girls were on speech and language plans for the pronunciation of sounds. Emily was very difficult to understand, often replacing words with sounds and speaking very softly; she was anxious and tearful often. Ellie, meanwhile, always seemed to make herself understood, could follow instructions and answer simple questions. She had strong friendships and seemed to settle well into Reception life. 
We started delivering Helicopter Stories at the end of December and by January, I had sat with Ellie on two separate occasions to hear her tell her stories. I quickly became aware that I had been missing something – her stories were often very difficult to understand as she had a disordered speech pattern. I decided to take the stories along with me to our Speech and Language Therapy meeting and shared them with the therapist. She too agreed that Ellie was muddling her sentences and as result has adapted her care plan. 
Helicopter Stories allows me the time to sit and listen to children in a way that isn't always possible in a Reception classroom. I wonder how long it would have taken me to realise Ellie had slightly different needs if we hadn't been doing the approach. I know I am not alone in finding it difficult to listen to all children; there are always those that want to talk to you from morning till night, and those that are shy or reluctant to talk to adults at all. In Ellie's case, she could answer simple questions and seemed to engage well in role play with her peers. It was only once I sat with Ellie, listening to and recording her Helicopter Stories, that I became aware of her speech disorder and her level of need. I was able to use this information and share it with her parents and her Speech and Language Therapist. As a school we have put in extra support for Ellie."
Chrissie's school in Croydon now uses Helicopter Stories, The Poetry Basket and The Story Basket across Nursery, Reception and Year 1. They have found it hugely beneficial in many areas, not just speech and language. They have also reported increases in confidence, imagination and a motivation to write, particularly in Year 1.