In Conversation with… Helen Prud'homme – On Adapting Resources for EAL Children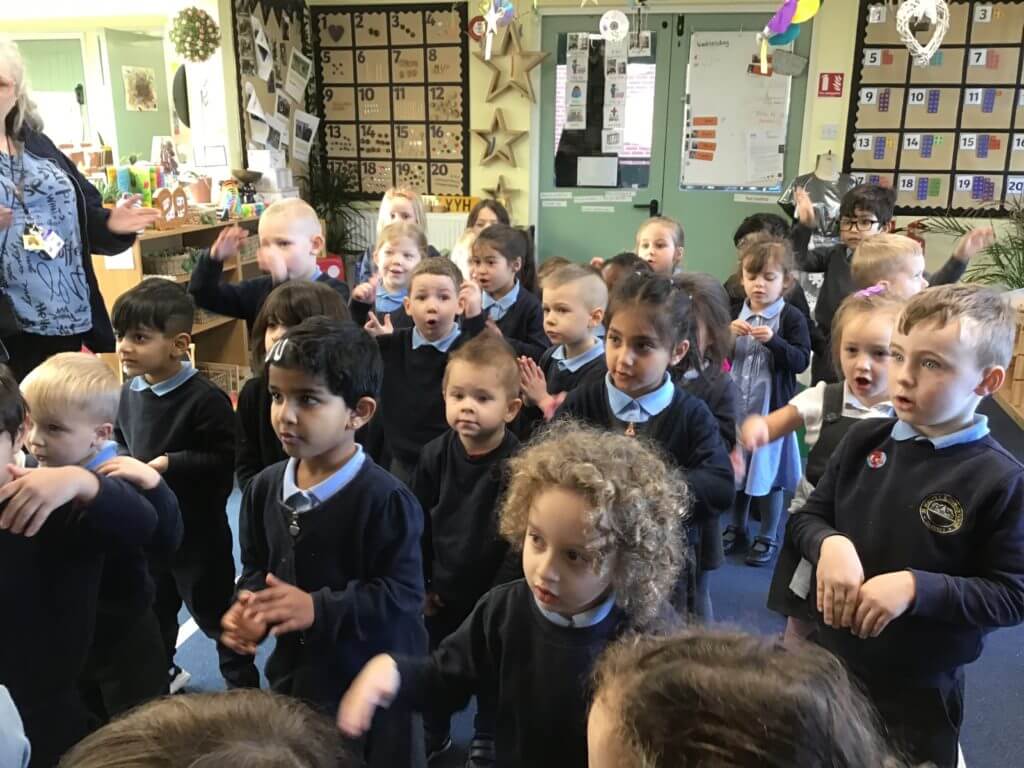 "Having such a high proportion of EAL learners has been a real learning curve. The Poetry Basket and The Story Basket are really high-quality resources, but I knew I would have to adapt them for the children."
Helen Prud'homme is an assistant headteacher, Early Years Lead and Key Stage 1 lead at St Mary's Primary School, Banbury. Helen is the teacher in Fledgling Class, a fully integrated Foundation Unit for children in Pre-Nursery, Nursery and Reception.

Having trained in Helicopter Stories, Helen subsequently discovered The Poetry Basket and The Story Basket. We spoke to her about how she's adapted our programmes for the high proportion of EAL children in her Foundation Unit and beyond!
As someone who regularly uses The Story Basket, The Poetry Basket and Helicopter Stories with your children, how did you discover our resources?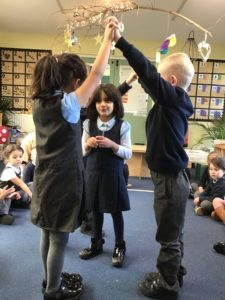 I was looking everywhere for an approach that would start helping the children to talk and introduce them to high quality vocabulary. Absolutely everything we do has the children at the centre, from our provision and teaching to our approach. We always have to bear in mind that we have children who are 3 years old – some going on 6 – in the same room. There's also Portuguese, German, Spanish, Polish, Greek, Albanian, Urdu, Turkish, Malayalam and Romanian spoken, too.  
Having such a high proportion of EAL learners has been a real learning curve. The Poetry Basket and The Story Basket are really high-quality resources, but I knew I would have to adapt them for the children. I was worried that The Story Basket would prove to be a challenge for my EAL children because there are no pictures; teaching children with EAL without visual prompts can be difficult, so we tried to be imaginative in the way we introduced it and focused first on the vocabulary.
For something like The Little Fir Tree, we did a pass-the-parcel with pictures and objects to bring the (key) words to life. And it's not just me trying to be creative – the children absolutely love finding new ways themselves, too. For Billy Goats Gruff, they went outside and made a little bridge. We also use lots of the suggested activities within the programme to give a more practical element to the audio stories. 
Because we have such a high proportion of EAL children, one of my number one priorities is getting my children to talk – both to each other and the adults. A lot of our children don't have a literacy-rich home environment and they come to us unaware of how stories are structured. Some children with English as an Additional Language need support in telling their Helicopter Stories because they haven't got that structure or story language experience, so then we use Tales Toolkit. Once they become more familiar with story language and structure, we move towards the more traditional Helicopter Stories approach using the Tales Toolkit stories they have written.
It sounds like the way you use the programmes is really expansive, could you tell us any more of your secrets?
So, I'm always finding new ways, but one of my favorites is what we do at Christmas. When we start to explore The Little Fir Tree, we actually get a fir tree in the classroom to give a holistic and sensory experience. As well as doing some of the activities that MakeBelieve Arts have embedded into The Story Basket, the children will often do observational drawings of the fir tree. We'll then bring in the language of the story, alongside some of the poems from The Christmas Basket. We'll be able to ask them, 'do you remember when we talked about…?', 'do you remember hearing this word?'. It's really vocabulary focused.
Also, some children don't have Santa in their lives, so they might not necessarily understand what the story's about. We have children who are Jehovah's Witnesses, as well as children who are Muslim and celebrate Eid. But I didn't want that to stop them from using such a great resource, that's why we try to be really creative in thinking about how to introduce each story. 
What benefits have you seen in using the programmes together?
Confidence! Especially in terms of performance and vocabulary – which seems to be the biggest one. Having a bank of stories and poems to draw on (from The Story Basket and The Poetry Basket) is a great way of getting the children up in front of the class. For example, if you've got a child who is almost non-verbal and doesn't like to speak, once they know a poem or a story along with their peers, that changes things. They're not afraid to stand up and say it because their peers join in and that's really encouraging.
Also – vocabulary. The Poetry Basket in particular really helps us to introduce some new terminology, which is fantastic with the rhyming especially. The children know six or seven – sometimes more – by heart and can understand and recite them by the time they leave us. After three years, they have a really good understanding of poetry and can continue this into year one.