In Conversation with… Glenys Ingham – On The Importance of Children's Needs
'What a fantastic skill to be able to listen, without pictures, without anyone even turning the pages of a book to sit and listen and create those images of your own making inside your head.'
We spoke to Glenys Ingham – ex-headteacher, Helicopter Stories devotee and current member of the MakeBelieve Arts board. She tells us why children's needs matter, how Helicopter Stories meets them, and offers some welcoming words for those new to the approach.
What drew you to Helicopter Stories?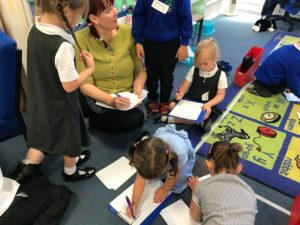 I was a headteacher and met Trisha Lee at a conference many years ago. She spoke about the role of theatre in education and Helicopter Stories and I felt such a connection to what she was saying. I immediately thought 'I want to have some of that in my school', because Helicopter Stories felt totally relevant to what my children needed. In particular, enabling them to develop communication skills, an understanding of story, and a love of language. When Trisha and I spoke at the end, we clearly shared the same ethos. She was thinking about setting up an education-theatre company, and that's how MakeBelieve Arts came about. When she then started sharing Helicopter Stories in my school, with the help of Isla, we had brilliant results. I'm now a board member and feel as if we have the finger on exactly what schools, and therefore children, need.
Can you tell us a bit more about what you mean by children's needs and why you think Helicopter Stories meets them?
In terms of need, I think one of the issues in education is a lot of external involvement, with targets being driven from outside of schools without taking the children into account. I've always felt very passionate about that. 
When I was a headteacher, and had a team of very creative, passionate, skilled practitioners, we wanted to make learning as much fun as possible – which is a tall order. It means 5 days-a-week with completely different children and managing all their competing needs. For me, the best way of meeting those needs was putting arts at the centre of my school. That meant creative arts – giving children the opportunity to make things, but also allowing children to discover the wonderful release that language and communication can give, and the importance of being able to communicate in that little classroom. Classrooms are some of the most complex worlds, and we adults so underestimate them.
Giving children the language to express how they're feeling – not just emotionally but practically – in response to learning that day, how they're finding sitting next to that particular child who might be bothering them that day, how the weather has affected them that day, how being asked a question has made them feel a little bit tense, is so important. Being able to step back and see children communicate and express themselves is absolutely vital to good learning and I think that's what Helicopter Stories enables children to do. It makes for a much warmer environment, filled with the kind of storytelling that connects us, which is especially important when we inevitably come from different places, different languages, different cultures. Once we start telling our stories, boundaries break down and we start seeing each other in technicolour. I think that's what enamours practitioners with Helicopter Stories and exactly why they want to have it in their classroom.
What advice would you give to practitioners who are new to the approach and learning online?
Stick with it just to see the sheer development of that group of children who come into your classroom or setting for the first time. Especially those children who find it very difficult to sit on the carpet – they're like a bag of frogs really, with so much energy and little understanding of expectations or what they're capable of. When you look at their progress after a few weeks of Helicopter Stories it's amazing; the children are sitting there, comfortably listening and sitting next to each other.
And don't feel restricted with how you use the resources. In fact I would say make the most of them. While it can be difficult to communicate just how much warmth and enthusiasm MakeBelieve Arts has online, there is something to be said of resources being available 24/7. You could be in an Early Years team meeting, have a question, and end up pulling up one of the training videos to discuss it amongst yourselves. It becomes quite exciting just how Helicopter Stories can go beyond the classroom, and be used as a way to work through issues in your school, while keeping children at the absolute centre.