Would your children like to create and share the words and actions to a poem of their own with hundreds of other children across the world, via
The Poetry Basket?

Then please enter our competition...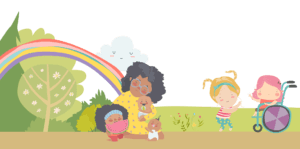 From September 2022, the team at MakeBelieve Arts would like to add up to 12 original poems to The Poetry Basket. These poems will be created and performed by children aged 3-7.  The poems will sit in their own section entitled "Over to You". They will contain actions demonstrated by children, and each video will be accompanied by a downloadable pdf of the words so that other children can learn them, just like they do for every other section of The Poetry Basket.
To enter you need to submit a good quality video of your children performing their poem, alongside a word document containing the words. The theme of the poem can be anything you like, entry is free, and the rules are as follows:
The poem needs to be original and created by children aged 3 – 7 from your school or setting.
Poems can be as short as you like but they can be no longer than 8 lines long. 

Each poem should be performed by your children, with accompanying actions to make them easy for others to learn.

In the video, please introduce your poem using the following word: 'We are *INSERT CLASS OR SETTING NAME* from *INSERT SCHOOL/SETTING* and this is our poem – *INSERT POEM NAME*'  The introduction can be done by one child or in chorus by the whole group. The introduction can be sent on a separate video if this makes it easier to capture. 

All the children in the video must have FULL PARENTAL PERMISON for the video to be shown on our website and to be shared on our various social media channels. By submitting an entry to this competition we will accept that this is the case. 
Don't forget to submit the words of your poem alongside your video, including how you wish it to be laid out, and send everything to us by We Transfer before 17th June 2022.
Deadline – Friday 17th June 2022. 
All entries should be submitted via WeTransfer to info@makebelievearts.co.uk
We cannot wait to see what you come up with!